Reflections on my Forecasting Assignments in the Weather Station


Overview: In order to become a better weather forecaster, I need to have both knowledge and experience.
In Meteo 101, we were asked to complete a weekly forecasting exercise. Below, I listed several of these
exercises that had a specific impact on my understanding of the atmosphere, along with a reflection about
how this experience changed or reinforced my understanding.
---

Assignment 9 in the Weather Station



Objective: Lesson 9 introduced us to the Cyclone Model where we learned about the various stages of




cyclones. This assignment focused on the primary lifting mechanisms responsible for precipitation. I




chose overrunning.





The low's center is predicted to be over northwest Ontario, south of Hudson's Bay, at 00Z on March 22, 2007.

Rochester, New York KROC

Overrunning is the primary lifting mechanism responsible for the rain predicted at Rochester. With a warm front just to the southwest, the warm air is moving over top the cold air at the surface. This is enough lift needed for clouds and precipitation to fall.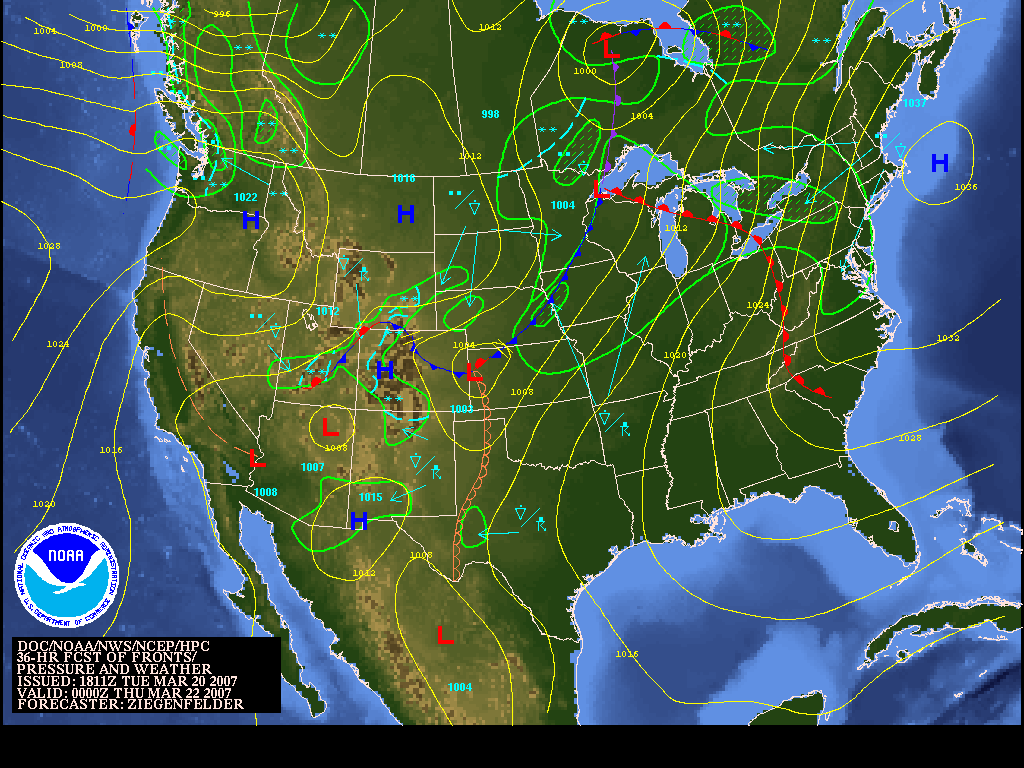 Conditions at: KROC (ROCHESTER, NY, US) observed 2354 UTC 21 March 2007
Temperature: 7.2°C (45°F)
Dewpoint: -0.6°C (31°F) [RH = 58%]
Pressure (altimeter): 30.24 inches Hg (1024.1 mb)
[Sea-level pressure: 1024.8 mb]
Winds: from the S (170 degrees) at 12 MPH (10 knots; 5.2 m/s)
Visibility: 10 or more miles (16+ km)
Ceiling: 7000 feet AGL
Clouds: scattered clouds at 3200 feet AGL
broken clouds at 7000 feet AGL
overcast cloud deck at 9000 feet AGL
Weather: -RA (light rain)

It was indeed raining at Rochester at 00Z on March 22. The warm front that was approaching was lifting enough warm air over the cold air at the ground to cause precipitation.

Reflection: What I learned the most with this assignment is where precipitation occurs with different stages of a
cyclone. Precipitation occurs near a warm front due to overrunning, while surface convergence causes precipitation
near a cold front. Also, I know how upper level divergence and surface convergence near a low's center produces
precipitation. These

three things help a lot in knowing where precipitation will be at a given time.




---

Assignment 11 in the Weather Station



Objective: Lesson 11 introduced us to forecasting high and low temperatures. The objective to this assignment




was to find a city where the MOS forecast high would likely bust. In lesson 11, we learned under certain




conditions where MOS forecast temperatures failed.




I believe the MOS predicted high temperature will bust in Burlington, VT (KBTV) on April 17, 2007. The predicted high is 42 degrees on this day, but with the cyclonic flow around a strong storm off the New Endland coast bringing in cold air from the northeast, I think the high temperature will stay in the 30's. The cold conveyor belt around the storm will bring low clouds along with rain and snow showers further enhancing the cold air which MOS doesn't always pick up on.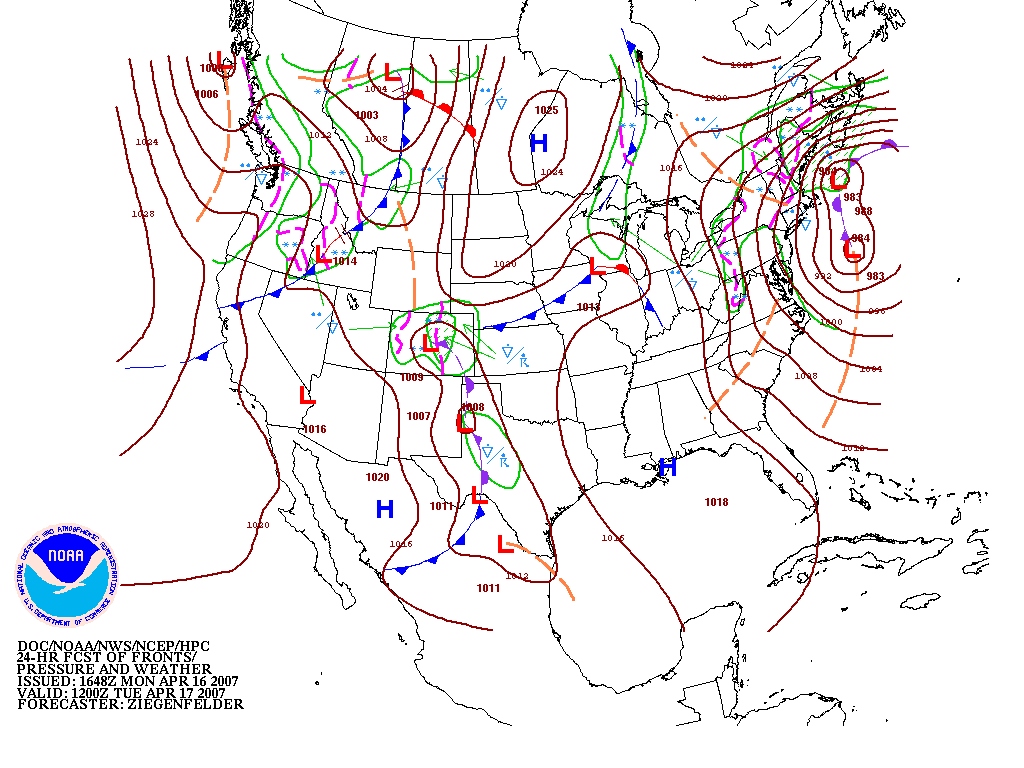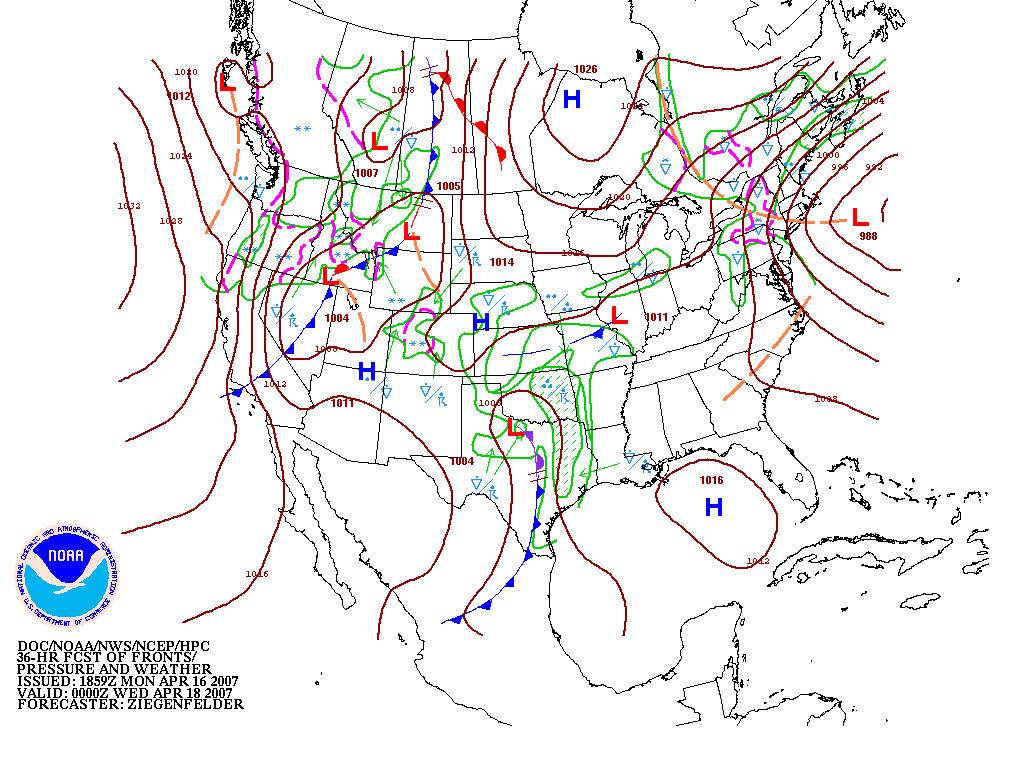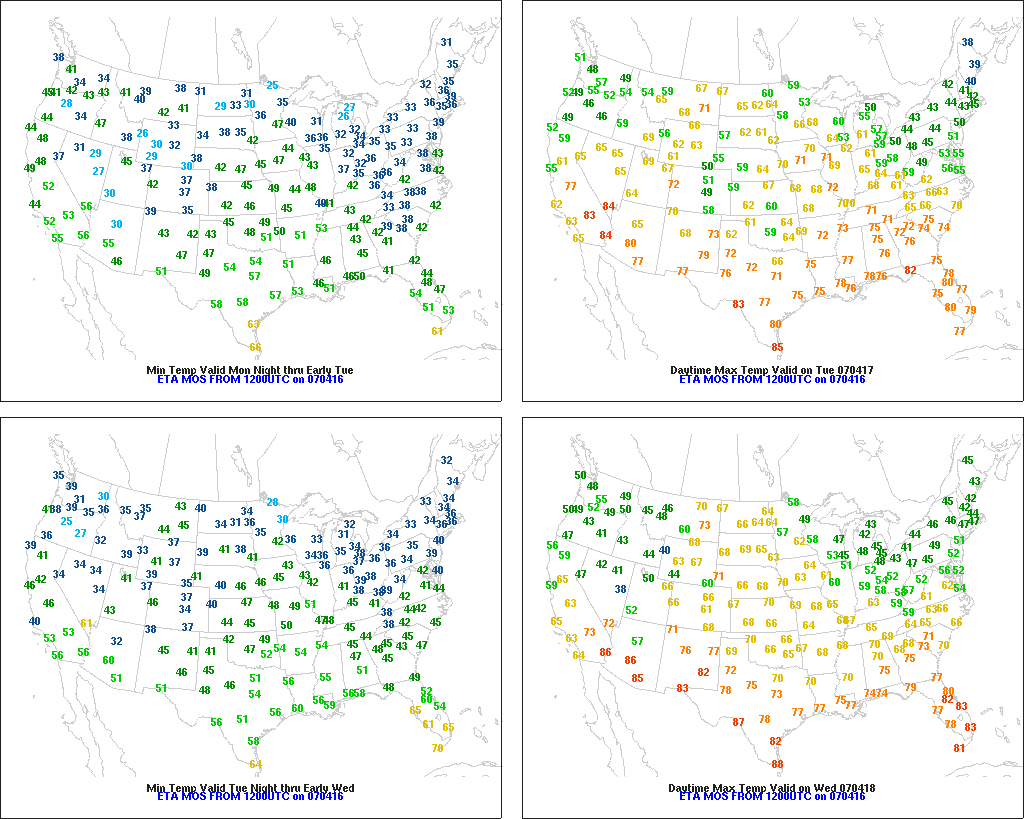 NATIONAL WEATHER SERVICE BURLINGTON VT
128 AM EDT WED APR 18 2007


...................................

...THE BURLINGTON CLIMATE SUMMARY FOR APRIL 17 2007...

CLIMATE NORMAL PERIOD 1971 TO 2000
CLIMATE RECORD PERIOD 1884 TO 2007

WEATHER ITEM OBSERVED TIME RECORD YEAR NORMAL DEPARTURE LAST

VALUE (LST) VALUE VALUE FROM YEAR
NORMAL
..................................................................
TEMPERATURE (F)
YESTERDAY
MAXIMUM 43 415 PM 90 2002 54 -11 47
MINIMUM 34 656 AM 13 1971 34 0 39
AVERAGE 39 44 -5 43



Unfortunately, my forecast was a bust, instead of the MOS forecast. The high at Burlington was 43 degrees, very close to the MOS predicted high of 42 degrees. I should've found a place where there was a steady overrunning rainfall, rather than a showery type precipitation which was forecast for Burlington. One thing that I wasn't counting on from looking at the forecast maps was a partly sunny sky at 6PM, the warmest time of the day. This was another reason why the temperature didn't stay in the 30's. I included the 6PM observation below.

VERMONT REGIONAL WEATHER ROUNDUP
NATIONAL WEATHER SERVICE BURLINGTON VT
600 PM EDT TUE APR 17 2007

NOTE: "FAIR" INDICATES FEW OR NO CLOUDS BELOW 12,000 FEET WITH NO
SIGNIFICANT WEATHER AND/OR OBSTRUCTIONS TO VISIBILITY.

VTZ001>014-172300-
_____VERMONT_____


CITY SKY/WX TMP DP RH WIND PRES REMARKS
BURLINGTON PTSUNNY 42 34 73 N17 29.71R



Reflection: I learned in lesson 11 that MOS is a pretty good predictor of high and low temperatures, but sometimes




it can be off. In this case, I thought I recognized a time when the MOS forecast temperature would be wrong,




because often to the north and west of a low's center, clouds and precipitation keep the temperature down; however,




now I know that I can't always trust where those clouds will be, because my location was partly sunny when it was




supposed to be cloudy. I think I learned more from being wrong on this assignment than if I were right.



---

Assignment 12 in the Weather Station



Objective: Lesson 12 focused on forecasting precipitation. The object of this assignment was to determine where




precipitation would be falling at the time our prog was valid using the four panel prog. We were to focus on areas




of upward motion.



The initialization time for my forecast is 12Z on April 17, 2007 and it is valid at 00Z April 19, 2007.
I think it will be raining at Lexington, Kentucky (KLEX) on 00Z April 19. One reason is because there's a bullseye of -6 microbars per second of upward motion at that time, creating lift for clouds and precipitation. Also, there's forecast to be .25 to .50 inches of rain in the six hours ending at 00Z, but the bullseye of upward motion is the biggest indicator.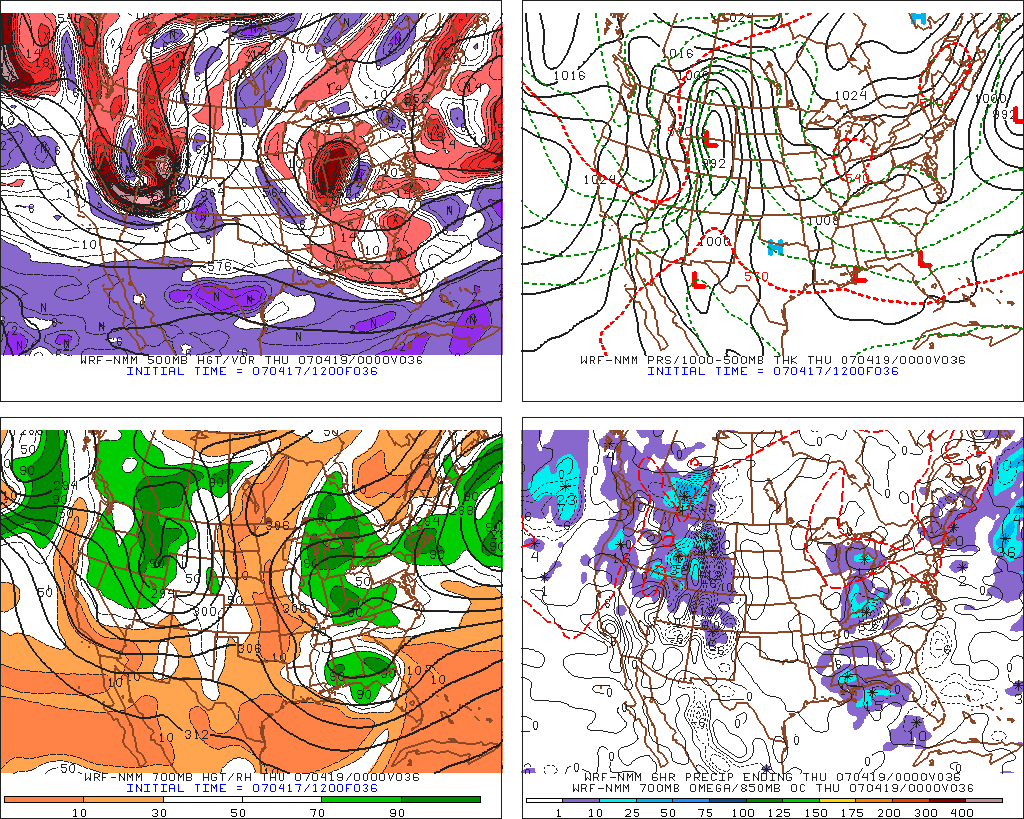 Conditions at: KLEX (LEXINGTON, KY, US) observed 2354 UTC 18 April 2007
Temperature: 13.3°C (56°F)
Dewpoint: 11.1°C (52°F) [RH = 87%]
Pressure (altimeter): 29.76 inches Hg (1007.9 mb)
[Sea-level pressure: 1007.4 mb]
Winds: calm
Visibility: 3 miles (5 km)
Ceiling: 3000 feet AGL
Clouds: broken clouds at 3000 feet AGL
overcast cloud deck at 5500 feet AGL
Weather: -RA BR (light rain, mist)

Luckily, it was raining at the time my forecast was valid, although the showers were only scattered. I guess just because there's upward motion doesn't automatically mean there will be precipitation, but it does increase the probability.
Reflection: Until I read lesson 12, I didn't know how many factors went into forecasting precipitation, such as upward
motion. Now, I know you have to look at many different things on a forecast map and even then nothing is a sure
thing, because the showers in my area were only widely scattered . Often, meteorologists have to look at few different
computer models and then take an average of all of them
before coming up with the best precipitation forecast.